HomeAid Essentials Diaper Drive
The unfortunate reality is that 1 in 3 families nationwide struggle to afford diapers and often have to choose between purchasing food for their family and buying diapers for their baby. Diaper affordability is a national crisis which is why HomeAid needs your help to close the diaper gap and keep babies clean, dry, happy and healthy.
Join the community and participate in the HomeAid Essentials Diaper Drive, Mother's Day through Father's Day, as we strive to collect 1.2 million diapers!
---
Essential Items Needed
Everyday expenses add up quickly. With the high cost of housing in Colorado, it is becoming harder and harder for working families to make ends meet. Your help is needed more than ever.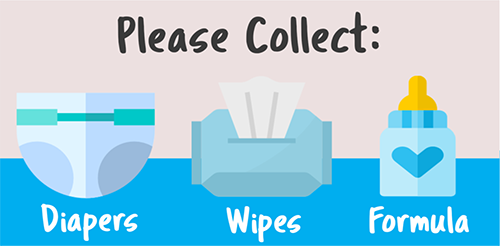 Public drop-off locations in the Denver-Metro area
(Drop-off available between May 12 - June 16, 2019)
---
Ways To Help
Sponsor
Builders for Babies sponsorship opportunities for 2019 are now available - click here to view the brochure. With your support, we can help thousands of families struggling to care for the basic needs of their children.
Donate
Give a little to make a big impact.
$40 provides 1 box of diapers for a baby in need
$50 provides a 1-month supply of formula for a baby
$80 provides a 1-month supply of diapers for a baby
$100 provides a 1-month supply of disposable diapers and wipes for a baby
Host a Drive
Are you or your company interested in getting involved? View our toolkit to learn how you can support families in need and be sure to register today!
Volunteer
Sign up to volunteer at our Builders for Babies event on June 21, 2019. Opportunities include event setup and breakdown, directing light traffic, counting and loading donations.
---
BUILDERS FOR BABIES
All community partners and the public are encouraged to drop-off their donations at the Builders for Babies event, benefiting the HomeAid Essentials program, on Friday, June 21, 2019 between 10am – 12pm at Broncos Stadium at Mile High. Donations will be directly distributed to 20 nonprofit partners throughout the state. Together, we can provide relief to families in need and strengthen our community.